FeralCraft
I am sadly forced to announce that the release date has been moved to next Saturday, February 17th. Reason for it is my current lack of time due to super important exam I have this Thursday. I was planning to release today and then finish and implement the rest of things after the exam, however I've found a bug which some of older players might remember (4-5 resets ago where map crashes if you load certain area) which has forced me to completely discard the current map again making the reset impossible for me to finish on time. I believe it will be better if I do it properly finished next Saturday and I am deeply sorry for this delay. You can be mad at me, just don't curse or anything. To reward your patience every player will be rewarded with a magic box on their join which will contain one of the valuble items from donator store. Furthermore, to compensate server will have a 5 day 80% discount for the first five days.

To keep you oiled up, I will list some of the new features server will have next season;
- Upgradebla Pets ( Allowing you vast ammount of skills such as damage, auto collect, shileding or potion effects)
- Quests (To satisfy your need when bored and to obtain unique items)
- McMMO Swords will be back but heavily nerfed
- More balanced CEs with less tiers to provide balance between new and constant players
- Few more ideas I have yet to think how to implement (kudos to Swaggy for suggesting good one)​

​
Rewards are the following;
1st Place - $75 Voucher - Given to Swaggy_Whale
2nd Place - $50 Voucher - Given to Fat__
3rd Place - $25 Voucher - Given to urbinlegends
4th Place - Ultra Armor Set & misc. - Given to tidlamonster2001
5th Place - Miscellaneous rewards - Given to AdiksXx

Please stay tuned for an exact release date of the new season!​
FeralCraft is back this weekend! Better, funnier, with novelties!

This Saturday, precise time is yet to be declared, expect it around 23:30 (11pm30) CET (Central European Time)​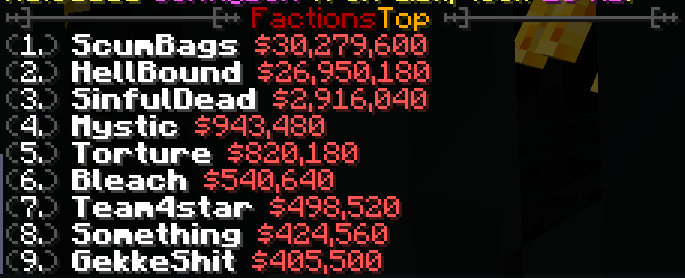 Congratulations to winners!
List of prizes:
1st spot -
$125 Buycraft Voucher + 2 GKits - Given to Halty
2nd spot -
$75 Buycraft Voucher + 1 Gkit - Given to Swaggy_Whale
3nd spot -
$50 Buycraft Voucher - Given to Ninja Pocky
4th spot -
GKit + Keys - GIven to Capitin
5th spot -
Keys - MiniatureEgg
​
Factions reset will be live on Saturday 15th, 11 PM CET, 5PM EDT, 2PM PDT/MST



We are looking forward to see you on!
Happy Easter
​
As reset is nearby, I've decided to give the FTOP prizes, there has been few changes, and I've decided to reward top 5 factions! Winners please contact me on forums/discord so we can disscuss rewards after I verify it is really you


1.st Prize - $200 BuyCraft Voucher - Given to Fat__
2.nd Prize - $100 BuyCraft Voucher - Given to Dalikeris
3.rd Prize - $50 BuyCraft Voucher - Given to SourCandyPvp
4.th Prize - $25 BuyCraft Voucher - Given to Halty
5.th Prize - Ultra Armor Kit for next season - Given to ChickenNugget6
​
As new season is getting prepared, I would like to know opinion of community.
The specific question in mind is, which version would you prefer to see next season (Or in 2-3 resets)?
Please share your opinion by voting at
http://www.strawpoll.me/12418691
Bear in mind, this is only to collect opinions from community, and may not (Most likely won't) affect my final decision which is to keep things as they are right now, of course with some nice additions for more fun!
I've reworked forums in order to make them more appealing, I hope you will be more active on forums!
We might even start doing some giveaways on forums


On the side note, for those of you who don't know, we have our new (old) Survival server back, you can join it with ip feralcraft.net
​
As you all know Factions are facing low player numbers.

In order to improve experience and make it enjoyable again
server is going to receive a medium overhaul.

Changes worth mentioning:

Economy buff
It seems easy economy is what everybody wants, therefore we are going to enable this for you all by
bumping up sell prices and reducing buy prices on spawners for easy economy income.
This should allow new players to accomodate faster.

Custom Enchants buff
As it seems right now, some armor enchants make you basically God, resulting in armor not breaking,
therefore we are going to buff and bring back some damage orientated enchants such as Rage and Double Damage.

Rewards
In order to deliver even more fun, we will add to server Envoys for easier loot gather, furthermore, there are few more features I will add in order to "reward" players.
​